Jill offers instruction to Training Level through Grand Prix riders. Her academic background and communication skills, eclectic riding experiences, intense classical dressage training, superior competition record, love of horses, and desire to help others, make her a unique and powerful teacher. Her teaching is composed of three main elements:
kind and logical behavior modification of the horse.
fitness and gymnastic training of the horse.
Synergistic Biomechanics: how specific parts of the horse and rider relate to one another to make the unified movement more beautiful than the sum of its individual parts.
Jill believes that a good and compassionate rider must have an impeccable seat and position. She believes adamantly that all riders can develop sensitivity and "feel" with the right instruction. Because of Jill's unflagging confidence in her students and the quality of her teaching, her clients progress quickly and successfully, in classical form.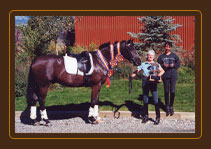 Jill trains in the same manner in which she teaches: kindly, methodically, and classically. She develops a wonderful rapport with her horses and believes in making them feel like heroes. She cross-trains the horses, and even the most intense training sessions have a feel of play.

She guides her horses to move with maximum joy and expression. She loves to compete because it intensifies her connection to the horses she trains. She loves creating the feeling of "you and me against the world" with her horses.
Jill's full-time training program is unique in that it is limited to a handful of exceptional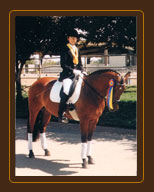 competition horses that she can develop with the care and patience needed for maximum performance.
The rest of Jill's time at home is dedicated to teaching at the Fort Collins Equestrian Center and at K2 Ranch in Boulder. Students also trailer in from around the country for intensive training sessions and show preparation. Her students include professional FEI riders, Young Riders, and serious adult amateurs.
Jill also has a working student program geared towards developing future professionals.